Turn your youtube channel into written publication
Convert
Videos

to

Blogs

using AI
Transform your videos, audios and podcasts into beautifully crafted blogs, making them visible to search engines and attracting more viewers.
Convert now
(Free trial, No credit cards required)
Check Out a Few Sample Transformations of Video into Blog Here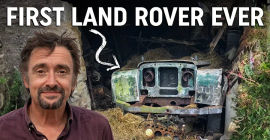 The Incredible Story of Land Rover Number One...
This is the story of first production Land Rover, JUE 477, and its restoration...
Open video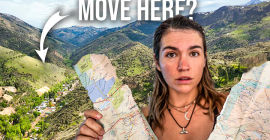 Living in Jarbidge: A Journey to the Remote Town...
The blog is about the author's visit to a remote town Jar Bridge in the USA...
Open video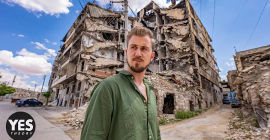 Exploring the Hidden Beauty and Resilience of Syria...
This blog is about a traveler's journey to Syria,a country with a rich cultural...
Open video
*These videos are copyrighted property of its respective owners, and its presence on this website is solely for the purpose of demonstration.
Heres the walkthrough of the system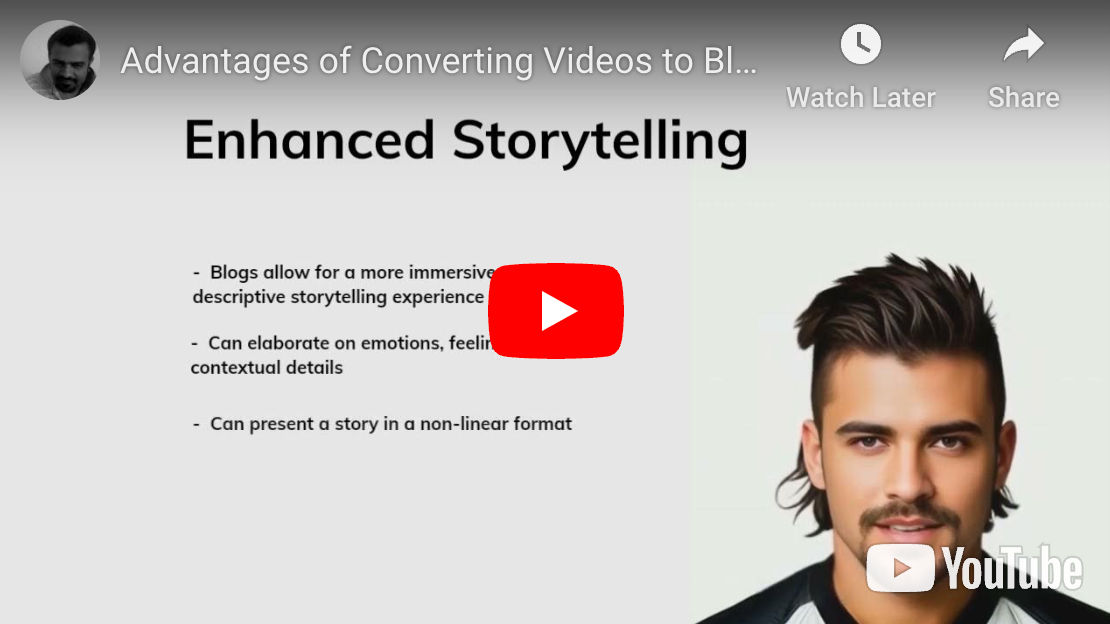 Start converting your videos to blogs now
Convert now
(Free trial, No credit cards required)
On free trial, you will receive 5 free conversion minutes upon signing up. You can convert video/audio within that limit.
Beautiful blogs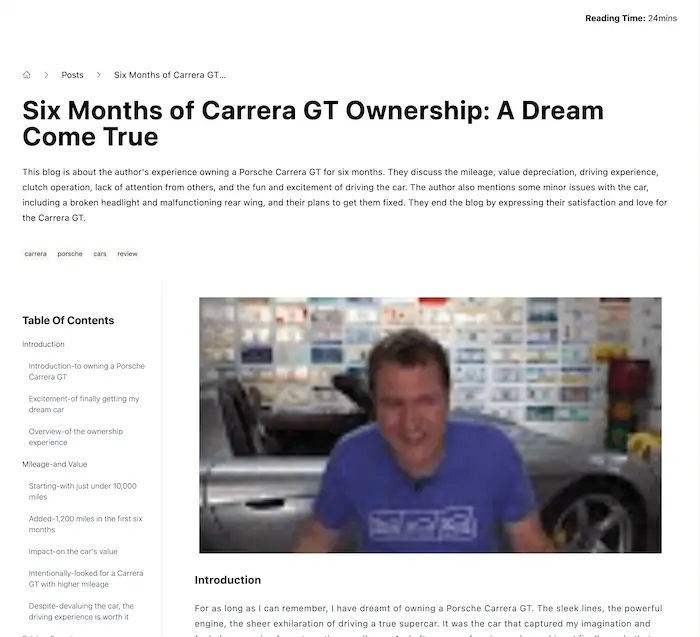 Preserve your unique voice and perspective: With our AI technology, we convert your videos into blogs while maintaining the authenticity of your content.
Bridge the gap between spoken word and written form: We accurately capture your ideas and insights, allowing you to engage with your audience on multiple levels.
Experience ease and efficiency in expressing yourself through writing: Leverage the power of AI to effortlessly express your thoughts and expand your reach.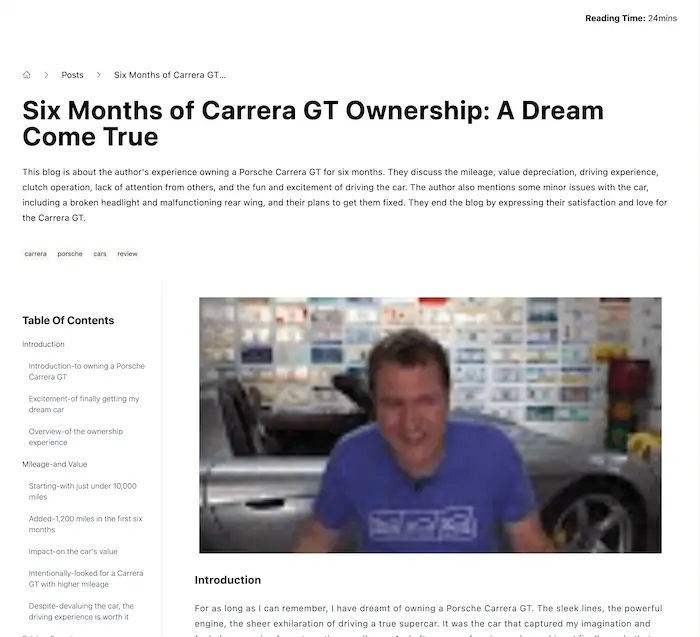 Reach more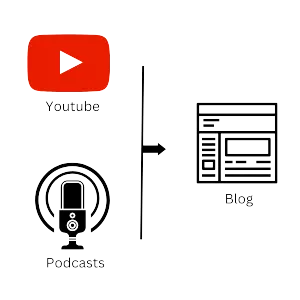 Accessible to a wider range of readers: Make your message available to individuals who prefer written content.
Connect with diverse demographics: Tap into new audience segments who prefer consuming written content.
Amplify your influence: Extend your impact beyond videos and establish meaningful connections with readers.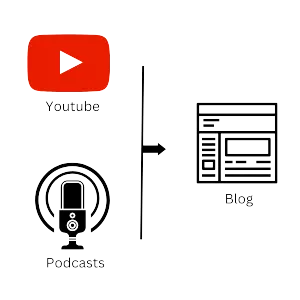 Enhance discoverability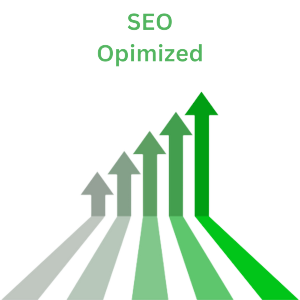 Optimized for search engines: Improve your website's search engine rankings and attract more organic traffic.
Expand your online presence: Boost your online presence by making your content more discoverable to a wider audience.
Stand out from the competition: Increase your chances of being discovered among a sea of online content.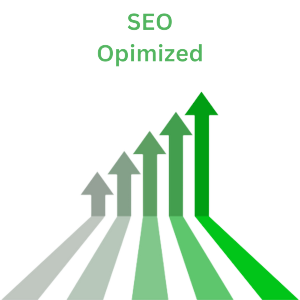 Expand your reach, increase your earnings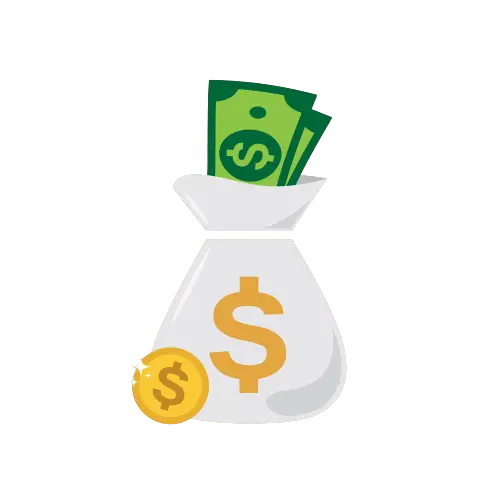 Maximize your revenue streams: By reaching more people, you can tap into new monetization opportunities and boost your earnings.
Broaden your audience base: Reaching more individuals means accessing new users who can contribute to your revenue and business growth.
Unlock new income streams: By reaching more people, you can explore partnerships, sponsorships, and collaborations that lead to additional revenue streams.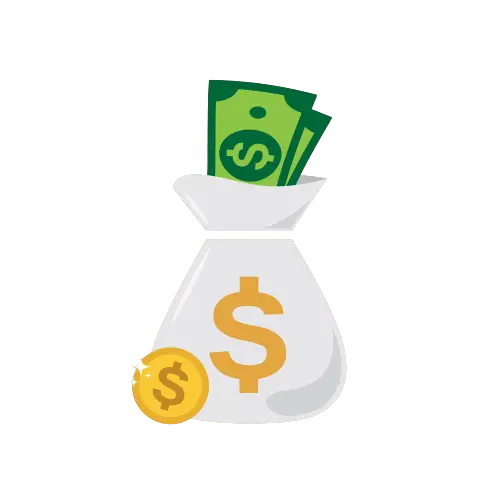 Seamless YouTube integration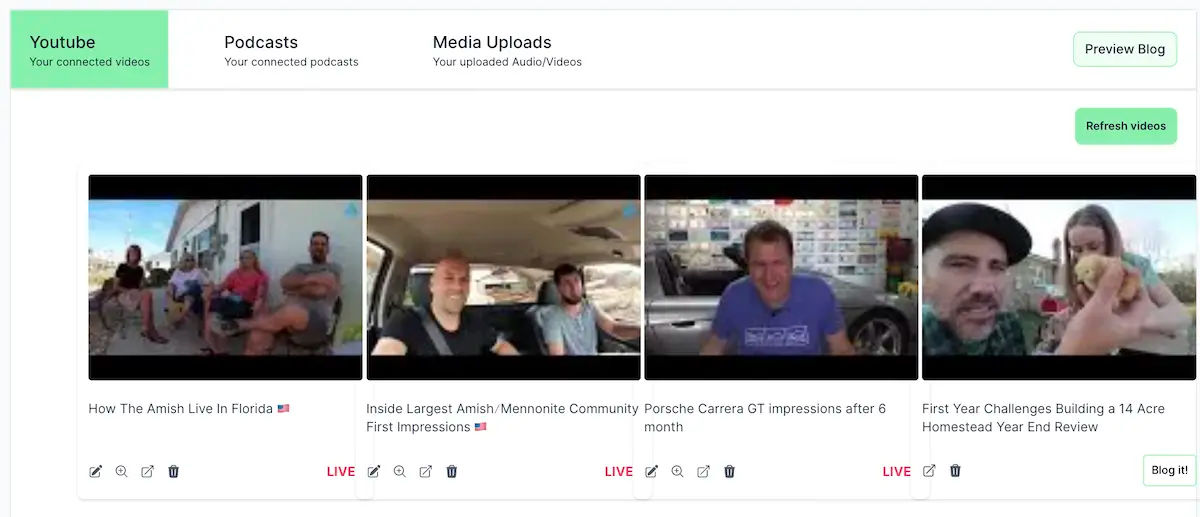 Automatic video-to-blog conversion: Sync your YouTube videos to our platform for easy conversion into written blog posts.
Stay consistent across platforms:: Keep your content synchronized between YouTube and our blog platform for a cohesive online presence.
Time-saving synchronization: Syncing with YouTube streamlines content management, saving you valuable time and effort.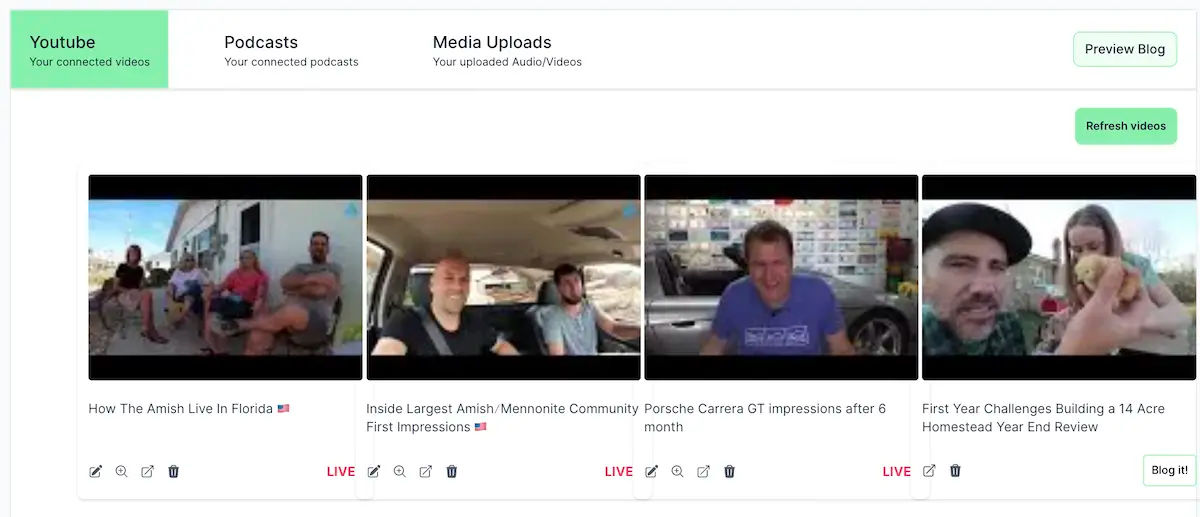 Bring your media
Seamless media uploading: Upload your audio files and podcasts effortlessly to convert to blog.
Diversify your content offerings: Expand your reach by incorporating various media formats to cater to different audience preferences.
All-in-one platform: Our platform accommodates your video, audio, and podcasts, making it a versatile solution for content creators.
Complete editing freedom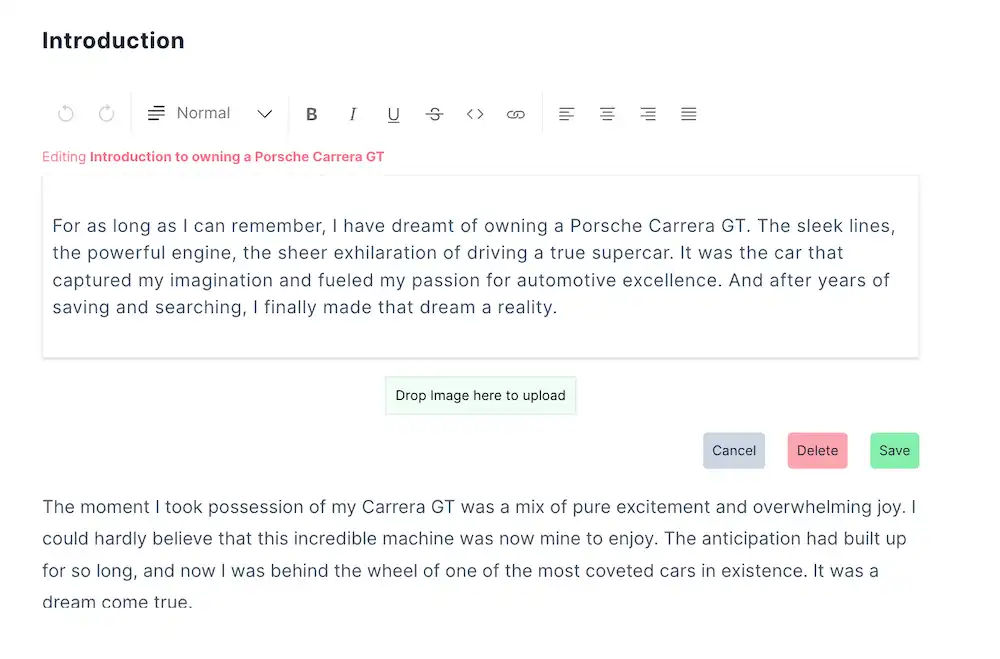 Tailor content to your style: Customize the text according to your style and preferences.
Refine with ease: Make adjustments and improvements effortlessly, ensuring your message is conveyed perfectly.
Embrace creative control: Take charge of your content's tone and structure by editing to your heart's desire.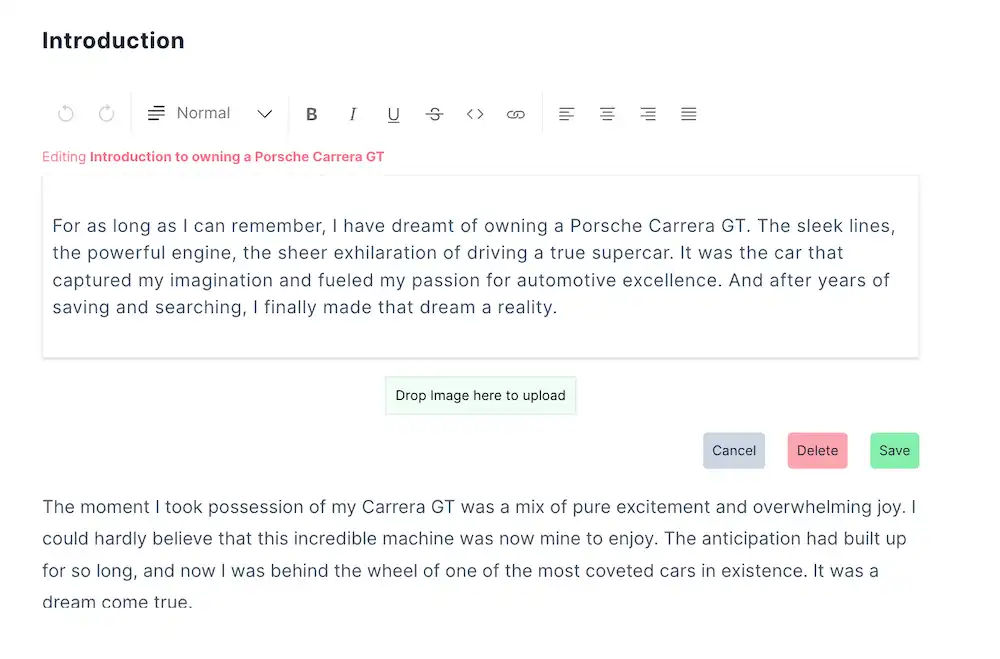 Optimized for SEO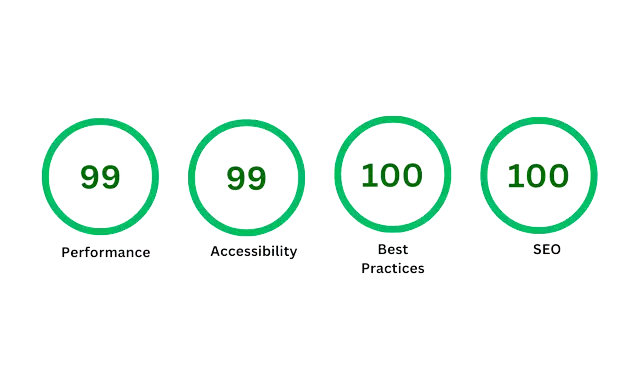 Optimized meta tags and links: We set up proper meta tags and canonical links for enhanced search engine visibility.
Enhanced search performance: Benefit from structured Schema markup on all your posts to boost SEO.
Lightning-fast loading times: Our blogs are served from the edge, ensuring a super-fast and smooth user experience.